Facebook party revellers at Llanelli lottery winner's home in court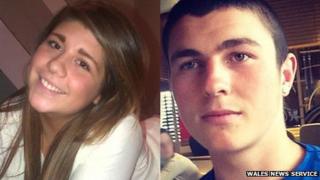 Police were called after a party at a lottery winner's house was overrun with revellers and fights broke out in the surrounding streets, a court heard.
Courtney Colarusso, 18, and Kalem Tinnuche, 19, saw details of the party near Llanelli, Carmarthenshire, on Facebook and were among 300 partygoers.
Llanelli magistrates were told the pair verbally abused police and admitted using threatening words and behaviour.
They received conditional discharges and must pay towards court costs.
The party was held at the home of 2005 lottery winner Sandra Fosbrooke in Five Roads to celebrate her daughter's 16th birthday.
Her daughter posted details of the event on Facebook and the house, bought from the £12.8m jackpot, was overrun with guests.
Sandra Fosbrooke, however, was not there at the time.
Street fights
Magistrates were told how police were called as drunken fights began breaking out in the streets around the house.
Prosecutor Gerald Neave said: "Officers were sent to the address after reports of fighting in the street.
"When they arrived at the scene they found between 200 and 300 people people out on the road.
"A large disturbance was going on resulting in numerous persons being arrested."
Colarusso was said to be "extremely under the influence of alcohol" and fell flat on her face on the pavement outside the house.
She repeatedly swore at an officer who tried to help her and dared him to arrest her.
Tinnuche was arrested after swearing at officers who were trying to stop him kicking a wall. When arrested he said: "Yeah, whatever."
Gareth Jones, defending, said: "His friends had seen the party advertised on Facebook and they invited him along."
Sandra Fosbrooke, who was working for Asda when she won the lottery in 2005, shared the proceeds with her then partner.
She used a slice of her winnings to buy a pub and was working behind the bar on the night of the party.
Ms Fosbrooke went home after being contacted by the police and found her house had been trashed by partygoers.
Colarusso and Tinnuche, both from Llanelli, were given 12-month conditional discharges and ordered to pay £85 each towards court costs.