Skokholm Island: Couple to be wildlife colony's only human residents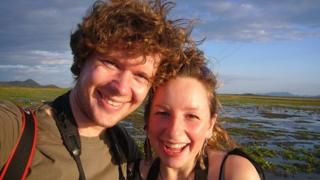 Buffeted by the competing winds of the Irish Sea and Bristol Channel, frequently cut-off from the outside world, and with only intermittent power and communication, becoming wardens of the wildlife colony on Skokholm Island would only appeal to special kinds of people.
Step forward seabird experts Richard Brown and Giselle Eagle, who from the new year will become the Pembrokeshire island's only two full-time residents.
Though it might not take them quite as long to adjust to their new surroundings as you'd imagine, as the couple are currently tending to the equally remote island of Bardsey off the Gwynedd coast.
But despite seven years experience living on unpopulated islands from Vancouver to Mauritius, Mr Brown explains he is still quite surprised that he and Ms Eagle managed to land the Skokholm job.
"All our power comes from solar, which in Wales can be temperamental to say the least," said Mr Brown.
"Generally we only have enough electricity to run a phone for two to three hours a day, and whilst we can usually check our e-mails, this is usually only once per day.
"So an afternoon e-mail might not get seen until the following evening or longer if there's an issue with the internet, making us far from the easiest people in the world to get hold of.
"It was completely by chance that we managed to find out about the interview for Skokholm just in the nick of time.
"But that's all part of the joys of island life, and we wouldn't have it any other way. Skokholm will be palatial for us.
"We're both very passionate about wildlife, particularly seabirds and island ecology, and we can't wait to be surrounded by thousands of storm petrels, Manx Shearwaters and puffins all to the backdrop of Skokholm's beautiful red sandstone cliffs."
For such a well-matched couple, the irony is not lost on Giselle, that she and Richard only met at all because of a lost colony of migrating little terns, during the particularly harsh winter of 2009/10.
'Hooked'
"I was working as the RSPB warden on the Little Tern colony in Great Yarmouth. I'd never been on an island before, and it'd never entered my head that in a matter of months I'd be living on one," said Ms Eagle.
"But the terns had an unusual season that year, and I spent my entire time running around the East Anglian coast and beyond monitoring several split sub-colonies who'd ended up wherever they could find shelter.
"During this time I visited Richard, who was already the warden on Bardsey. I was hooked on both island life and Richard. I moved here in October 2010 and haven't looked back."
Skokholm was first settled by Vikings around the late 10th or early 11th Century, possibly as a staging post en-route to the Danish trading colony at Sveinsey - modern-day Swansea.
Its name is Norse, meaning Wooded Island, and shares a common root and translation with the Swedish capital Stockholm.
'Amazing job'
Changing hands many times over the centuries, it once belonged to Sir John Perrott, the illegitimate son of King Henry VIII.
In 1646 his descendants sold Skokholm for £300 to barrister William Philipps, in whose family it remained until 2005.
Today it belongs to the Wildlife Trust of South and West Wales (WTSWW), who successfully campaigned to raise the £650,000 asking price.
Now it has been designated a National Nature Reserve, and amongst Richard and Giselle's first tasks will be to continue the renovations of the 1776 lighthouse - one of the earliest remaining in Wales - as well as the UK's first purpose-built seabird observatory, founded in 1933 by renowned naturalist Ronald Lockley.
Mr Brown says the plan is to have guests staying on Skokholm as quickly as possible.
"WTSWW have already done an amazing job of repairing and renewing the island's structures, but there's still a lot of work for me and Giselle to be cracking on with," he said.