Calon Lan: Animated film plan on writer Daniel James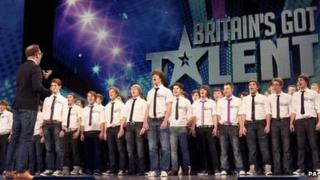 Daniel James's rousing hymn Calon Lan has become a favourite of the Welsh, sung at rugby grounds and venues around the country.
And last year the choir Only Boys Aloud reached the final of Britain's Got Talent with their version.
Now researchers are to make an animated film about the man who wrote the words, 165 years after he was born.
Swansea University and Treboeth History Group plan to make sure his story is carried on for the next generation.
They have been awarded a £4,100 grant by the Connected Communities project to research and promote his life. A short animated story will be made with the help of local school teachers to make James' story available online.
Gwenno Ffrancon, a lecturer at Swansea University, said Treboeth, near Swansea, played an important part in James's life.
She said: "Treboeth is the village that has commemorated Daniel James.
"He did live for a while in Mountain Ash and Blaengarw and it was actually in Blaengarw that he wrote this particular hymn.
"But it's Treboeth that has celebrated the man, has researched his life and the project here this year, in the 165th year since his birth, is one that is going to ensure that not only is his house remembered, his work remembered, but his life will be brought to life by an animated film."
Dr Ffrancon said James, one of Wales' most celebrated bards, wrote his poetry while working in the heavy industries of south Wales.
"He lost his father quite early, so he became the main breadwinner for the family and he worked throughout his life as an ironworker, then a tin plate worker and eventually as a collier.
"So he moved along from various industries, heavy industries and all the while kept writing his poetry and, of course, penned Calon Lan."
She said the fame of the hymn, which was written originally in Welsh but is now also sung in English, would have spread quite quickly among James's colleagues and friends.
"One of the aims of this particular project is to ensure that we know everything about his life," she said.
Dr Ffrancon said the animation would be distributed to schools, libraries and museums in Wales.
She described Calon Lan as one of Wales' "treasured hymns".
"I think it's one of the hymns that has captured the imaginations and the hearts of all Welsh people regardless of their ability to sing it in Welsh - the original language in which it was written."