Ystalyfera landslip clear-up given go-ahead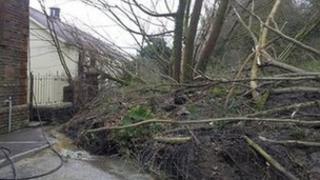 People in a Swansea Valley village hit by a landslip just before Christmas have been told a major clear-up can now take place.
Thousands of tonnes of rock, soil and trees struck Pantteg, Ystalyfera, on 22 December.
Neath Port Talbot council said on Tuesday it had been given the go-ahead by specialist engineers to start clearing the site.
It's understood that two families are still waiting to return to their homes.
Villagers formed a residents' association to put pressure on the authority to clear up the site promptly.
There had been concern that the work would not be able to start until the end of the month.
The council said it had been concentrating on carrying out essential safety work until it had received further detailed information.
The old road into Ystalyfera will remain closed but pedestrian access will be made available "when possible".
The local authority's director of environment John Flower said: "We would again like to thank the local community for their patience and understanding whilst we deal with this extremely difficult and complicated issue.
"Our emphasis continues to be on safety and caution.
"We will continue to monitor the hillside as once again there is going to be a change in the weather which may have an affect.
"We are particularly concerned about the situation of Penygraig House because it is unstable."
The council stressed the work would need to be "carefully planned with contractors because engineers have advised that the risk of a further slippage still exists".
Attention will be given to clearing the debris in front of the chapel.
The council is again appealing for people to keep away from the area while work is being carried out.