Wales snow: Western Power working to restore power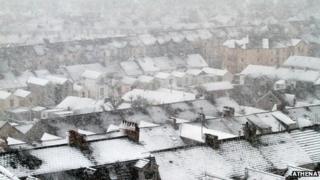 At least 3,000 homes in Carmarthenshire and Pembrokeshire are still without energy after heavy snow hit power lines and blocked roads slowed repair teams.
A total of 6,000 properties across south west Wales were initially left in the dark as overnight snow brought delays and disruption to the region.
HGV drivers have been urged to stay off some roads and hundreds of schools are closed with the cold set to continue.
Police have urged people not to travel on untreated roads unless they have to.
Western Power said homes in Swansea and Carmarthen were also hit but attempts to deploy extra engineering crews were being hampered by blockages on the M4 and on roads elsewhere.
A spokeswoman said: "As we're repairing faults, more faults are coming in.
"We're sending staff in to west Wales from other areas to help out - but because of the traffic problems it is taking them longer.
"We're hoping for break in weather, we will continue to work until everyone is back on supply."
Earlier, she said: "It's the weight of the snow on overhead lines, bringing them down, that is the cause of the problem."
'Sensible precautions'
Dyfed-Powys Police has urged people to use the 999 emergency call number "responsibly" given the difficult driving conditions.
It said officers would be on patrol in town centres as the freezing conditions look set to continue over the weekend.
Chief Supt Huw Rees said: "We are continuing to work hard with our partners to ensure that we provide an effective service in response to incidents.
"I would also like to remind people of the need to take sensible precautions in heavy snow and not to place themselves at risk unnecessarily."
At Swansea Crown Court, judges staffed the phones to take calls from defendants who could not make it to their hearing, as a number of court staff were unable to attend work.
The Swansea-based DVLA is closed until further notice due to adverse weather conditions.
Abertawe Bro Morgannwg University Health Board said out-patient clinics at all its hospitals in Bridgend, Swansea and Neath Port Talbot have been cancelled for Friday and Saturday.
An Abba and Bee Gees tribute event at the Grand Theatre on Friday evening has been cancelled because the artist and crew cannot reach the city.
Meanwhile, Swansea council has cancelled all sports fixtures on park pitches over the weekend and the national pool shut for the day at 12:30 GMT.
All schools in the city, except Ysgol Gynradd Gymraeg Llwynderw, are closed but comprehensive schools that have exams are open.
HGVs stuck
In Pembrokeshire, the council said HGV drivers should avoid the A478 between Penblewin roundabout, near Narberth, and Cardigan because of snowdrifts.
The A48 is closed in both directions at Stormy Down, Bridgend, with traffic queues.
A number of HGVs become stuck on the A483 at Fforest in Carmarthenshire
The B4329 between Haverfordwest and Cardigan is closed due to a lorry being stuck on the road as is the B4313 at Morvil Hill between Llanychaer and New Inn where another lorry is blocking the road.
The severe weather conditions are set to continue for the rest of Friday with freezing temperatures to remain over the weekend.