Wales National Pool in Swansea open after small fire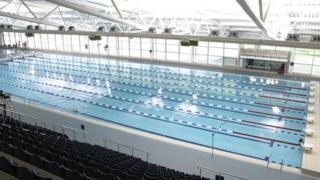 The Wales National Pool in Swansea has reopened after a small fire caused by an electrical fault forced its closure.
Fire crews from Swansea Central and Swansea West were called to the pool in Sketty Lane at 18:24 GMT on Monday.
A capacitor in the electrics which controls the poolside lighting overheated and caught fire.
The pool was closed following the blaze but reopened on Tuesday morning after repairs.
A spokesman for Wales National Pool Swansea said: "An electrical fault caused a fire alarm activation which was isolated to smouldering electrical gearing in a plant room at the Wales National Pool early yesterday evening.
"People were evacuated from the pool area and, due to isolated nature of the incident, were allowed by the fire service to change before leaving the building.
"The pool re-opened late morning on Tuesday and it is now business as usual."