PPI: Lifestyle Claims, Swansea, staff tactics uncovered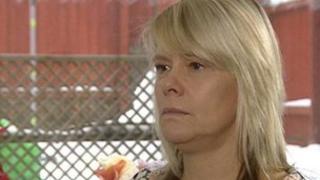 Tactics used by staff at a Swansea claims management firm to persuade customers to hand over credit card details have been revealed by a BBC Wales investigation.
X-Ray looked at Lifestyle Claims' cold-calling on mis-sold payment protection insurance (PPI) compensation.
It went into administration in October, weeks after the Ministry of Justice banned it from charging upfront fees.
The firm failed to respond when contacted by X-Ray.
The initial estimate was that it owed 1,000 customers more than £1m.
Swansea Trading Standards had also received over 200 complaints about the firm, many about the promises they made in their phone calls.
Stephanie Graham, who made calls for Lifestyle Claims for just under two months last year, told the programme: "You would say something like, 'You could be due thousands of pounds back in compensation from your high street lenders'.
"[We would say] 'Have you seen about it? Have you had your money?' "
It was her first full-time job, and she said they were told not to tell customers their claims could take years.
Instead, they would tell people they would know within 90 days how much money they would get.
There was a hefty commission for those staff who could make the most sales. Wages started at £300 a week for three sales, rising to £1500 a week for 25 deals.
Second company
Christine Reith, from Cwmbran, one of Lifestyle's unhappy customers, was contacted in 2010 and persuaded her to pay a total of £2,400 to make six claims.
She said she was told she would get all that back, and could be due up to £2,000 per claim.
Ms Reith told X-Ray: "They said you can't lose because it's on your credit card and as soon as we get a response back we will automatically pay it you back, so I said OK and foolishly I gave them my credit card number."
Two years later, only one of her claims had been successful, which was for £100.
Lifestyle Claims went into administration before she got her £2,400 back, and she is now trying to claim the money back from her credit card provider.
X-Ray wrote to one of the directors of Lifestyle Claims, but he has failed to respond.
The programme also contacted a second company which made calls on their behalf. It also failed to answer the programme's main points about the sales tactics used by Lifestyle Claims.
X-Ray is on BBC One Wales at 19:30 GMT on Monday, 11 February.