Landslip fear at Ystalyfera over coal exploration plan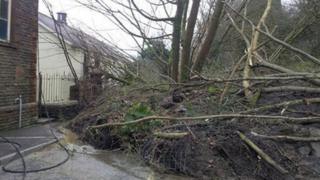 Protesters are objecting to plans to explore for coal in the Swansea Valley due to concerns about landslides.
Objectors said they feared an Aberfan-type disaster if mining ever got the go ahead on a mountain near Ystalyfera above a school and some homes.
Plans for coal seam exploratory work have been submitted for Mynydd Allt y Grug where a landslide happened just before Christmas.
The firm behind the proposals, Western Carbons, has been asked to comment.
The landslide on 22 December brought thousands of tonnes of soil down onto a road.
Several families spent the Christmas and New Year holiday away from their homes after 11 properties were affected.
The slide forced trees to come to rest against the vestry of a local chapel.
Eight protesters from Tegwch - Action for Ystalyfera/Godre'r Graig - demonstrated outside Neath Port Talbot council offices in Port Talbot on Monday.
They said the plans seeking to "investigate" a coal seam are for a site opposite the Gleision colliery, where four miners died in 2011.
Action group spokesman Emyr Wyn Williams said: "We handed 178 signatures objecting to the mine over to the council, and we have more signatures to come.
'Public concerns'
"The mine is going to create just five jobs and developers are planning to use explosives, but the mountain is unstable.
"We fear another Aberfan if this mine is given planning permission. It's above a school which has 100 pupils and people's homes."
A total of 144 people, including 116 children, died when a coal waste tip slid down a mountain and engulfed a school and surrounding houses in the village of Aberfan on 21 October, 1966.
No-one was available for comment when BBC Wales telephoned Western Carbons' offices in Ammanford, Carmarthenshire, and asked for a response to Mr Williams's concerns.
A Neath Port Talbot council spokesperson said the authority was aware of people's concerns relating to the application.
He said: "The council has received a planning application for exploratory driveage and associated engineering works to investigate coal seam at Pen y Darren, Cwm Du Valley, Godregraig.
"The application is still under consideration and we are currently waiting for responses from various consultees and further information from the applicants.
"We are aware of the public concerns that have been raised.
"These, and all other material planning issues will be examined and taken into account when the application is decided."
If the current application is accepted and viable coal is found a further application would need to be submitted before any mining could start.
An application for an underground coal mine by the same firm at Pen y Darren was rejected by the council in 2009 due to highways concerns