Tributes to Wales Air Ambulance chairman Robert Palmer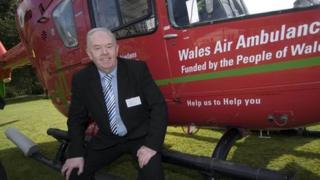 Tributes have been paid to the founder and chairman of Wales Air Ambulance (WAA), Robert Palmer, who has died, aged 64.
Swansea businessman Mr Palmer founded the service in 2001.
WAA's chief executive Angela Hughes said his passion and drive for the charity, which now operates three aircraft, never faltered.
He will be remembered at the opening of the latest shop in Mumbles, Swansea on 1 March, the charity's 12th birthday.
Ms Hughes said Mr Palmer had always wanted the charity to open a shop in the area, and had spotted the opportunity to rent the premises.
Initially, Mr Palmer could foresee the value of an air ambulance for the country's diverse and challenging landscape and worked voluntarily with business people in Swansea to introduced a helicopter sponsored by the AA, she said.
When that sponsorship ended after a year, he worked with other trustees to build the national charity.
"We are all devastated to lose Bob and our thoughts are with his family at this difficult time," she said.
"Bob's passion and drive for the Wales Air Ambulance never faltered.
"He always knew what this lifesaving charity could become and it is his vision that has helped us to carry out over 17,000 missions to date, and transform the lives of many living in Wales.
"He was rightly so very proud when we recently launched a new, state-of-the art helicopter in mid Wales."