Swansea travellers' site: 4,000 oppose second location proposal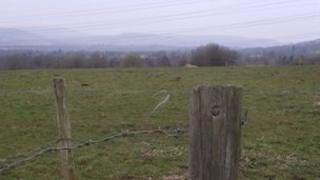 Campaigners say more than 4,000 people have signed a petition opposing a second permanent site for travellers and Gypsies in Llansamlet, Swansea.
The city's only other permanent site is in the same district but is fully subscribed and Swansea council is required to find more space.
Five locations around the city - Cockett, Llansamlet, Penderry and two in Gorseinon - have been selected as possible sites.
A public consultation ends on 31 March.
Llansamlet Against Second Travellers Site (LA2TS) say they are not opposed to a second site in the city but they do not believe it should be in their area.
"We think the council should've solved the problem of additional sites years ago," said Hilary Jenkins, chair of LA2TS.
"We are not against Gypsies or travellers. We just don't feel the potential site they have chosen is appropriate.
"We don't think they should be considering Llansamlet as there is already one permanent site here and a temporary site.
"We do feel there are other more appropriate sites in the Swansea area and we want to encourage as many people as possible to take part in the consultation."
"West Glamorgan Agreement"
Mrs Jenkins said the proposed Llansamlet site is also in a residential area while the other sites are away from homes.
She also said when the original site opened at Pantyblawd Road in the 1980s, there was an agreement with the local authorities at the time that no further sites opened in the same area.
However, Swansea council has produced two legal reviews which say the so-called "West Glamorgan Agreement" does not exist and more than one site could be opened in Llansamlet.
More than 100 people attended a meeting on Wednesday where the campaign was outlined.
The meeting was told that 3,641 signatures on the petition came from people living in Llansamlet with "several hundred" more from elsewhere.
A Swansea council spokesman said: "A three-month consultation is under way in Swansea and we have invited everyone to comment on the current proposals.
"It is important that the consultation process is completed before council officers provide any further views on the matter."