Beach may have been sprayed with gunfire on day soldier died, inquest hears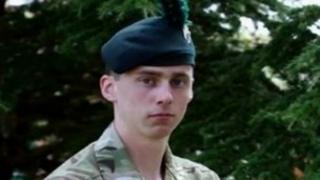 Tourists at a Pembrokeshire beach ran the risk of being shot and killed on the day a soldier died nearby, an inquest heard.
Ranger Michael Maguire, training at the Castlemartin Ranges, died from a single machine gun shot probably fired from 0.6 miles (1 km) away.
The inquest in Cardiff head that nearby Freshwater West beach may have been sprayed with machine gun fire.
Ranger Maguire, from County Cork, Ireland, was not wearing a helmet.
The soldier, a member of the 1st Battalion, The Royal Irish Regiment, who was 6ft 7in (2m) tall, was standing in a "safe" area where soldiers eat their lunch in a field a kilometre away from the action zone.
The inquest in Cardiff has previously been to the series of shooting ranges to see the scene of the tragedy.
Relaxing
They have heard that soldiers shoot out to sea and within specific map co-ordinates which restrict firing to a narrow channel.
Evidence suggests a fellow soldier firing a machine gun at a designated target placed on the range hit Ranger Maguire.
On Friday, the jury heard evidence suggesting that civilians who may have been relaxing at the nearby beach were also at risk of being hit.
Capt Gary Palmer, an Army weapons expert, investigated the shooting in parallel with the police to ensure later recruits trained safely.
He highlighted that soldiers under the command of Lt Jonathan Price had shot outside the safe areas specified.
Machine gunner
In particular, they shot outside a designated area designed to ensure their bullets were no danger to other soldiers on shooting exercises themselves.
Steps taken to guard against this appeared to have gone seriously wrong during the day, the inquest heard.
It meant a machine gunner attacking a static target for the exercise shot over land.
Ranger Maguire, who was relaxing 0.6 miles (1km) away without his protective helmet and armour, fell within its range.
Other soldiers on similar live fire exercises were also probably unwittingly shot at, and Freshwater West beach, 1.6 miles (2.5km) north west of where the machine gun was placed, was also within the same potentially deadly area.
'Line of sight'
Capt Palmer said the "full weapon danger area" for the machine gun was judged to be 1.8 miles (2.9km).
Cardiff and Vale of Glamorgan Coroner Mary Hassall said: "It is about 2.5 kilometres to the beach from [the range], therefore by pointing north west the general purpose machine gun was within the full weapon danger area.
"That meant a bullet could go from the gun to Freshwater beach."
The captain said: "Yes. If it has clear line of sight without hitting anything on the way."
Mrs Hassall said: "Very plainly within the full weapon danger area of the range."
The inquest continues.