Swansea Drydocks Ltd ship recycling permit change 'likely'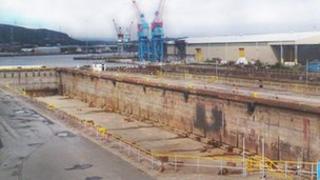 A ship recycling firm in Swansea is likely to be granted permit changes allowing it to expand, Environment Agency Wales (EAW) says.
Swansea Drydocks Ltd (SDL) plans to extend the area where it dismantles ships to include a wet berth area.
The extension would allow it to temporarily store old vessels to start stripping fixtures and fittings and remove waste fuel.
A month-long consultation has been launched before a decision is made.
The agency says the permit change would not pose a risk to the health of local people or the environment.
It says the "restrictions within the permit will make sure that the surrounding environment is protected during this process".
Ships would be fully dismantled in the dry dock area.
EAW's consultation will end on 15 April.