Health services: Hywel Dda watchdog wants more time to talk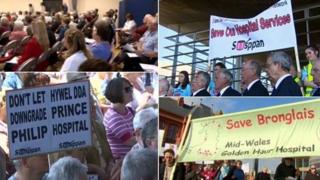 A patient watchdog says it has not been given enough time to renegotiate proposed changes to local health board services after the Welsh government rejected a request to call the plan in.
Hywel Dda Community Health Council (CHC) was told by outgoing health minister Lesley Griffiths that its referral did not propose alternatives.
It has been given three more weeks to talk with the local health board.
The watchdog said some of the changes had no details to pass comment on.
The Hywel Dda area covers Ceredigion, Pembrokeshire and Carmarthenshire.
The CHC confirmed it had received a letter from Ms Griffiths, who has now been replaced by Mark Drakeford as health minister, asking them to resume talks, clarify which proposals it did not support and come up with alternative proposals by 5 April.
CHC chairman Tony Wales said the three-week timeframe was too short, especially as it included the Easter period and all the council members were volunteers with other commitments.
He added that further discussions would need to achieve "real progress, and not just be another round of talks".
'Impossible' request
Dr Gabrielle Heathcote, vice chair of the CHC, expressed concerned that Ms Griffiths' response letter had not referred the council's concerns over what they considered to be "inadequacy and failures of the LHB's consultation process".
She said there were many core issues excluded from the consultation, including care in the community and the manner in which it was to be delivered.
She said: "Community services [are] clearly intended to be the cornerstone of any change."
Dr Heathcote added the CHC had been asked to produce an alternative model when there were no details given, making the request impossible to comply with.
Among the changes it has proposed, Hywel Dda Health Board would close a special care baby unit at Withybush Hospital in Haverfordwest.
There would also be changes to accident and emergency care at Prince Philip Hospital in Llanelli.
Two minor injuries units at Tenby and South Pembrokeshire hospitals would close, as would Mynydd Mawr Community Hospital in Tumble.
Campaign groups have been established in several areas, fighting to protect services.
Local health boards (LHBs) around Wales have been drawing up proposals that the Welsh government says are necessary to put the NHS on a safe and sustainable footing.
When rejecting the Hywel Dda CHC's proposal last week, the Welsh government said: "In line with the agreed guidance on consultations on proposed service changes, any referral by a community health council must indicate alternative options which it believes will better serve patients.
"The Hywel Dda CHC referral does not propose alternatives.
"Therefore the CHC has been asked to resume its dialogue with the health board as a matter of urgency, in order to make clear which of the proposals it can support and which it judges should be referred."