Swansea measles epidemic: Father's appeal to parents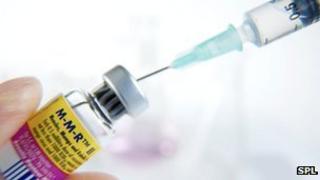 A father is urging parents to ensure their children have the MMR vaccine after all three of his children were hit by the Swansea measles epidemic.
Craig Thomas, 36, from Morriston, said he wished his two sons and daughter had been vaccinated, and he felt "unbelievable" guilt.
His 15-year-old daughter Chloe was forced to miss part of a GCSE exam because she was so ill.
More than 400 cases of measles have been reported in the area.
Health officials have said they are very disappointed in the uptake of the MMR in the Swansea area.
Mr Thomas told the BBC News website: "I just want to tell other parents it's horrible to see your children ill.
"To have three in one home is a nightmare.
"Take action before they have measles - get the MMR jab."
Chloe, a pupil at Morriston Comprehensive School, was the first to get the virus.
She was so poorly she had to miss part of her GCSE performing arts exam and will now sit it at a later date.
Mr Thomas said Chloe, who was now feeling much better, was the 17th pupil at her school to get measles.
His sons Jordan, 14, who attends Ysgol Gyfun Gymraeg Bryn Tawe, and nine-year-old Keiron, who attends Ysgol Gynradd Gymraeg Lon-las, now also have it.
Mr Thomas said he and the children's mother, his partner Nicola Markham, both feel "terrible" about it.
"The guilt is unbelievable. We wish we could turn the clocks back and have their injection," he said.
"We never thought they would catch it."
He said when the children were young there were stories in the media about the MMR vaccine supposedly posing a potential health risk.
"My advice to parents would be get the MMR straight away rather than wait to see what measles is like," he added.
Public Health Wales has said only 100 of the 3,800 susceptible children aged over two in the Swansea area had the vaccine last week.
At that rate, it would take two years to vaccinate all those at risk.
There have been more than 400 cases of measles in total and of those more than 100 have been reported in the last week alone.
Health officials have said the epidemic was spreading at an "alarming rate" and that more than 50 people had been hospitalised so far.
The majority are in Abertawe Bro Morgannwg, Powys and Hywel Dda health board areas.
Robert Francis-Davies, a Swansea councillor and grandfather of five children, said he wanted to encourage parents to take their children to have the MMR jab.
"There is no excuse for failing to get your children protected, and infected children can cause grave problems for others - don't forget," he said.
Typical symptoms of measles include fever, cough, conjunctivitis and a rash.
Complications are quite common even in healthy people and around 20% of reported measles cases experience one or more complication.
These can include ear infections, vomiting and diarrhoea, pneumonia, meningitis and serious eye disorders.