Welsh druids at Hull couple's 40th wedding vow ceremony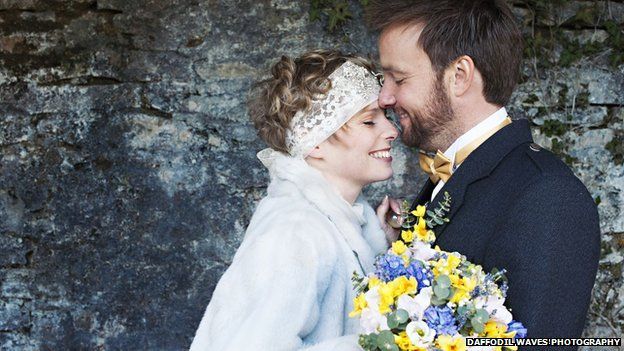 A couple who are exchanging marriage vows in locations around the world chose a druid ceremony in Carmarthenshire for their 40th wedding celebration.
Lisa Grant and Alex Pelling, from Hull, have decided to try global wedding experiences, including a tribal event in Panama where guests were topless.
Their latest experience was at Aberglasney Gardens on Wednesday.
They plan to return to one favourite location in 2014 and marry officially.
Ms Grant said the idea began after they decided to find somewhere to marry while embarking on three years of travelling.
"After a glass of wine or two, the idea grew and we made the decision to have a small ceremony in every country we visited with the local cultures and traditions in mind," she told BBC Radio Wales.
Friends and family have not been able to attend every ceremony with a large number of marriages taking place in the Americas.
In fact, the pair drove from Canada to Brazil for 34 weddings in 24 countries with ceremonies adhering to local cultures and traditions.
"The weddings aren't traditional white weddings each time," explained Mr Pelling.
"For instance we had a topless wedding in Panama with a tribe and an Andean ceremony in Peru. They are not typical western weddings," he said.
"We will end the trip with absolutely nothing and will have to start all over again - but what a way to spend your hard-earned money," said Ms Grant.
Their west Wales ceremony took place on Wednesday in front of Aberglasney's ancient yew tree tunnel.
Related Internet Links
The BBC is not responsible for the content of external sites.