David Stephens accidental death after bull crushing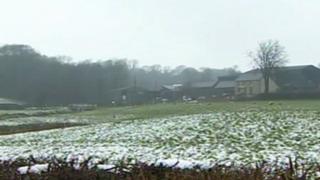 A dairy farmer from Carmarthenshire was crushed by a two-tonne bull while trying to move it for a TB test, an inquest in Llanelli has heard.
David Stephens, 55, died from crush injuries after he was flown by air ambulance from Coedybrain Farm in Llandyfaelog, near Kidwelly.
A Health and Safety Executive inspector said the bull may have been "more excitable" after seeing cows nearby.
A jury returned a verdict of accidental death.
The inquest heard that on 22 January this year the farmer had attempted to place the bull in a device called a yoke in the bull pen so that a TB test could be administered, but the animal refused to be restrained.
Later that morning, Mr Stephens and his son Robert attempted to move the animal to a cattle crush at the other end of the milking parlour by guiding it with sticks.
But the bull attacked Mr Stephens, pinning him against a metal milking stall.
Health and Safety Executive inspector Catherine Toozer said the bull had not been aggressive in the past, but it was possible he was "more excitable" after seeing cows entering the cattle crush in front of him.
The farmer, who was married and a father of three grown-up children, died later that night in Morriston Hospital, Swansea.