Swansea seafront observatory to be turned into cafe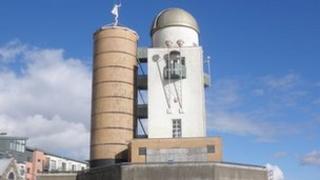 A disused observatory which overlooks the seafront in Swansea is to be turned into a cafe with holiday accommodation.
The five-storey building, which includes a domed roof, was built in 1988 and housed a craft workshop, exhibition space and a public viewing gallery.
Swansea Astronomical Society also leased the observatory for 17 years.
But the building has been vacant since 2010 and Swansea council put it up for sale last year.
Under the new plans by businessman Noah Redfern, the ground floor and first floor of the observatory will be turned into a cafe.
The top two floors will be used for holiday accommodation and will be made up of a one-bed unit. The building will also be extended as part of the renovation.
Swansea councillors unanimously approved the plans at a committee meeting and it is hoped the new venue will open later this year.
Mr Redfern said he was "thrilled" by the decision and he chose to take on the observatory because of its location.
"Swansea's biggest asset is the beautiful bay and the view of Mumbles and I don't know why we haven't got any more places like this along the front," he added.
"If you go abroad, they maximise the coast."
The area around Swansea marina, which the observatory sits in front of, has undergone massive regeneration over the last few years.
One of its most notable features is the tallest building in Wales, the 29-storey Meridian Tower.