Historic bridge near Kidwelly surveyed after flooding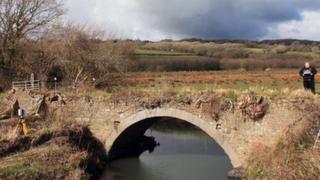 A survey has been carried out after floods damaged the oldest tram road bridge in Wales.
The single-arch Pwll-y-Llygod bridge spans the Gwendraeth Fawr river in Carmarthenshire, and dates from about 1770.
It once carried a tramway over Kymer's Canal, which moved coal and limestone.
The survey, commissioned by Welsh historical environment body Cadw, will see what repairs will be needed to the listed structure.
The Royal Commission on Ancient and Historical Monuments of Wales notes that it is the oldest railway bridge in Wales and the "second or third oldest in the United Kingdom, and the world, and so its importance is considerable".
Kymer's Canal is the oldest purpose-built canal in Wales and was constructed between 1766 and 1768 to move coal from Thomas Kymer's pits to a river wharf.
It ran for three miles (4.8km) and transported goods from collieries and quarries along Gwendraeth valley to a quay at Kidwelly.
At Pwll-y-Llygod, which marked the canal terminus, a tramroad linked to the Carway Colliery.
The structure had suffered damage from recent floods and any findings will help decide what repairs are needed.
The details of the survey, carried out by Royal Commission investigators, will now be archived with the National Monuments Record of Wales.