Snow clean up in Pembrokeshire turns up sledges and surf boards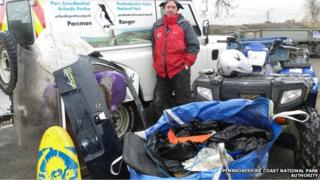 Surf boards, car body parts and broken bits of plastic sledges have been found by people clearing up debris left behind in Pembrokeshire by people playing in the winter snow.
Pembrokeshire Coast National Park Authority staff have collected a skip full of abandoned items.
Park ranger Richard Vaughan said the most disturbing sight was a council road sign bent into a sledge.
Animals can be harmed if they chew on the litter, says the authority.
"I think people have seen the snow and headed up to the hills and pretty much left things around," said Mr Vaughan.
"We've had a busy day picking all that up - and we still haven't finished.
"That's one thing that upsets us really - that there is so much left behind every year when we have a small amount of snow but still quite a lot of rubbish."
The park authority's health and tourism policy officer Hannah Buck added: "We do want people to get out and enjoy the national park but at the same time in farming areas activities such as sledging can cause harm to animals, damage fencing and cause access problems for local people.
"It's clear that sheep and horses have been chewing on the often sharp-edged bits of plastic found amongst some of the litter, which can cause serious damage or death to an animal if ingested."
The authority said the Countryside Code emphasises that litter and leftover food does not just spoil the beauty of the land as it can also be dangerous to wildlife and farm animals and spread disease.
Mr Vaughan urged people to be more considerate and think about their actions next time they go out in snow, especially on private land.
"If you are using somebody else's field think about their livestock in those fields and whether you have permission," he said.
"The biggest thing this year was vehicles left in gateways and farmers not able to access livestock further on."