Dylan Thomas: Poet's fatal New York tour to be BBC film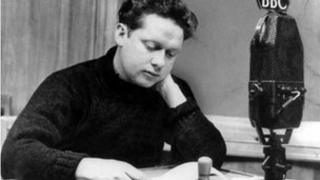 Dylan Thomas's fourth and final reading tour of America is to be portrayed in a television film to mark next year's centenary of his birth.
The Swansea-born poet died in New York in November 1953, aged 39.
Writer Andrew Davies has been commissioned to script A Poet in New York for BBC One Wales and BBC Two.
Filming will begin in late summer in Cardiff and in Laugharne, Carmarthenshire, where Thomas lived and is due on air next year.
Thomas was in New York to take part in a production of Under Milk Wood, his famous play for voices, at the prestigious Poetry Centre in Manhattan.
He had been on his way to Hollywood to write an opera with Stravinsky.
It is accepted Thomas drank himself to death but in 2008 writer David Thomas alleged that medical incompetency and neglect contributed to his end.
Davies said working on a film about Thomas had been a "privilege and a pleasure".
"Dylan Thomas was a huge inspiration to me as I was growing up in a very similar environment to his in south Wales," he added.
"Although the script centres on his last days in New York, and the circumstances of his tragically early death, I want above all to celebrate his extraordinary, charismatic personality, his unforgettable poetry, and his passionate and stormy relationship with his wife Caitlin."
Faith Penhale, Head of drama at BBC Cymru Wales, said: "Dylan Thomas was one of the greatest poets of the 20th Century and this drama is a bold celebration of his extraordinary life, his unique talent and his tragic death at just 39 years old.
"Andrew Davies' script is full of humanity and captures Dylan's spirit brilliantly."
A year-long festival is to take place in 2014 to mark the centenary of the birth of poet Dylan Thomas.
Theatre performances, visual arts, comedy, television, film and exhibitions will be held across Wales for the event, called Dylan Thomas 100.
A Poet in New York will be screened next year.