Schoolboy Aled James achieves 100% attendance for 13 years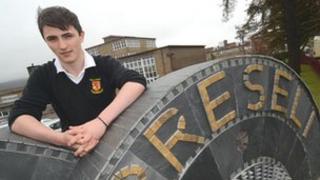 A Pembrokeshire teenager has carried on his family tradition of not taking a single day off during his time at both primary and secondary school.
Aled James' brother Carwyn, mother Anne and late grandmother Nellie also achieved the same feat.
The 18-year-old is preparing for his A levels at Ysgol y Preseli in Crymych.
The three-generation perfect attendance is believed to be a record for Pembrokeshire and 'possibly for Wales and the UK'.
"I enjoy school... it's like a second family to me and I will be very sad to go," said Aled.
"As a family we have a reputation of always turning up and being on time and it's never occurred to me not to go.
"You just get up and go. It would be odd not to go to school.
"I'm lucky too that I'm not often ill... certainly nothing serious."
Aled, a school prefect, was brought up on the family farm in Crymych.
His father died when he was young and Aled helps out on the farm in his spare time.
"Aled and his brother Carwyn's record is a remarkable achievement in this day and age," said Ken Rowlands, cabinet member for children and young people with Pembrokeshire council.
"We hear so much these days about truancy and about young people doing wrong that we need to be reminded of how many of them achieve good things that are worthy of the highest praise."
Dafydd Hughes, head of the sixth form at Ysgol y Preseli, said the school was incredibly proud of Aled's achievement.
"Aled has followed in his grandmother, mother and his brother's footsteps.. they are a shining example to all," he said.
Aled's brother Carwyn left school in 2010 and is now at Swansea University.