Rescued Skomer passenger's 'terrifying' experience on sinking boat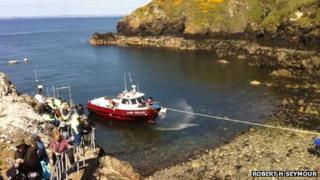 A passenger on a boat trip to Skomer Island off Pembrokeshire has described the "terrifying experience" after the vessel hit rocks and started sinking.
The Lady Helen was carrying 48 people, including children, when the incident happened on Saturday afternoon.
RNLI lifeboats and a diving vessel went to the boat's aid, and all on board were safely rescued without injury.
The Lady Helen, which was returning to Martin's Haven, has now been refloated and taken to Neyland.
Milford Haven's coastguard watch manager, Barrie Yelland, said a mayday was issued by the boat at about 13:00 BST on Saturday, after it struck a rock in an area of water known as Little Sound.
Operators initially tried to tow the vessel off rocks using a sister boat, Dale Princess.
"It did become apparent while they were towing it to a safe location that the vessel had started to sink quite rapidly," said the coastguard manager.
"At that point they were transferred to other vessels, and thankfully all were transferred safely with no injuries."
'Huge crunch'
Dan Snook was with his partner and two seven-year-old daughters on the Lady Helen when the incident unfolded.
They had decided to take a pleasure tour around the Skomer area on the very first day of a holiday in Pembrokeshire.
"The tour had pretty much finished really and we were on our way back to the harbour," he told BBC.
"We heard this huge crunch noise, we hit a rock, the boat spun around on a sort of axis and faced the other way and started to list quite badly.
"We thought it was going to stop listing, but it didn't - it carried on, and we thought it was going to capsize.
"It just about stopped. There were 48 people holding on for dear life."
He said the adult passengers remained calm during the whole event, despite their fears.
"The adults were really quite restrained, despite everything that was going on, and how terrifying it was at the time.
"The girls are like nothing ever happened, but they are only seven, so they bounce back pretty quickly. No-one was injured, but it was a terrifying experience, one which I don't think I'll forget."
RNLI lifeboats from Angle and St David's were scrambled, along with a Dyfed-Powys Police rib boat and an RAF helicopter from Chivenor in Devon.
"Several vessels in the area also responded and went to the assistance of Lady Helen," added Mr Yelland.
"Special thanks must also go out to the boat Over Dale."
The incident is now likely to be the subject of a Marine Accident Investigation Branch inquiry into how the Lady Helen came to run on to rocks, and the circumstances surrounding the accident and rescue.