Pantyffynnon station: Appeal for help with restoration project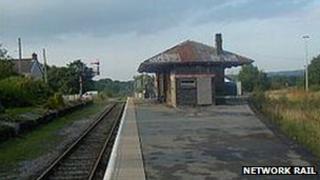 A team hoping to restore a rundown Grade II-listed railway station in Carmarthenshire has appealed for help from the local community.
Network Rail said old photographs of the north end of Pantyffynnon station would help restoration workers determine its original form.
They need to pinpoint the finer detailing of the building, one of the few examples of its type left.
The Victorian station near Ammanford is believed to date from 1857.
It was built to an Isambard Kingdom Brunel chalet design and is on the Heart of Wales line at its junction with the branch lines to Brynamman and Abernant.
The hope is to restore the station over the next year with funding from Network Rail and the Railway Heritage Trust.
Network Rail's director of route asset management for Wales Jonathan Pegg said: "This is a magnificent building which will be brought back into use as a result of our renovation.
"However, we simply do not have the historical information on its design as some records have been lost over the passage of time.
'Old photographs'
"We are appealing to any former railway workers, local historians, rail users or enthusiasts to provide any old photographs, engravings or records of the building.
"We need them to help piece together the history of this unique building so that we can faithfully restore this important local building."
Mr Pegg said items dating from its early life between 1860 and 1920 would be of particular interest to the project, but any information that the community could provide would be gratefully received.
Network Rail said the station was originally quite large and built next to the Dynevor tinplate works and included buildings, a signal box, freight yard and from 1931 there was a small locomotive shed.