Pembrokeshire toilets: Operators wanted for 28 blocks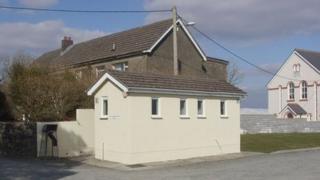 Nearly a third of the public toilets in Pembrokeshire could be operated by businesses or community organisations in the future.
The council has begun a review of 28 of 93 toilet blocks, saying it could save £135,000 a year if they are handed over to someone else to run, or otherwise closed.
It wants to hear from interested local businesses or community organisations.
The annual cost of maintaining public toilets in Pembrokeshire is £1.5m.
The authority said it had the highest ratio of toilet blocks to population - 7.9 per 10,000 - in Wales. That figure compares to 4.7 per 10,000 in Cornwall, another county popular with tourists.
New uses
It said public toilet provision is not a statutory provision.
In many areas of Wales businesses like pubs, cafes and restaurants now allow the public to use their toilets as more and more public conveniences disappear.
A consultation asking for any businesses or community organisations who want to take on the task of running the 28 blocks in Pembrokeshire under review remains open until Friday 28 June.
Raymond Martin, director of the British Toilet Association, said: "Councils up and down the country are being forced to close their toilets because they are facing 20% budget cuts from central government."
He said in some council areas toilet blocks were being giving new leases of life under private ownership, being run as taxi stands, flower shops and even art galleries with toilets attached.
Mr Martin also welcomed the Community Toilet Scheme whereby businesses allow people to use their facilities even if they are not customers in return for small payments, but he said in some cases people feel excluded from using toilets in bars or pubs.
Toilets under review in Pembrokeshire:
Croesgoch, Crymych, Dinas Cross (Main Road), Fishguard Square, Gwaun Valley Sychpant, Letterston, Maenclochog, Mathry, Nevern, Solva Upper Lay-By, St David's Quickwell Hill, Trefin, Burton, Clynderwen, Lawrenny, Llangwm Black Tar, Llanstadwell Hazelbeach, Milford Haven Manchester Square, Milford Haven The Rath, Newgale adj to The Pebbles Cafe, Newgale adj to Duke of Edinburgh pub, Neyland Marina Brunel Quay, Pembroke Black Horse, Pembroke Parade, Pembroke Dock Front Street, Pembroke Dock Hobbs Point, St Florence, St Ishmaels