'Too drunk' ex-policewoman cleared of burglary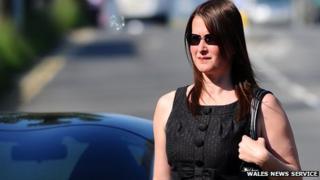 A former policewoman has been cleared of burglary after a jury agreed she was too drunk to have the intent to steal.
Ceri Ann Rees, 35, was filmed entering a staff area at Swansea's Aspers casino and rummaging through handbags.
Ms Rees, from Panteg, Llanelli, returned to the casino's restaurant with an iPhone and charger.
But a jury at Swansea Crown Court found Ms Rees not guilty. She was sacked by her police force for misconduct two months after the incident.
During her trial, the court heard Ms Rees had stuffed the "phone down her top before slumping on to her side".
Her colleague, policewoman Samantha Dawson, retrieved the phone after they were challenged by casino staff.
Ms Rees was arrested and charged with burglary because she had entered an area of Aspers casino in Wind Street, Swansea, which was not open to the public.
The ex-police officer told the jury she did not have an "off button" once she started drinking.
No memory
She said she still could not remember even being in the casino, and woke up in a police cell.
"It was my worst nightmare," she said. "I rubbed my eyes hoping that when I opened them again I would be somewhere else," she said.
She told the jury she had been sacked two months after the incident for misconduct.
She said she did not dispute what casino staff said she had done, or what the CCTV cameras had recorded, but said she had never intended to permanently deprive the casino worker of her mobile and charger.
The jury took just 40 minutes to find her unanimously not guilty.
Ms Rees, who broke down in tears on hearing the verdict, left the court without commenting.