Dragon Ride's injured cyclist had 'amazing' help from fellow riders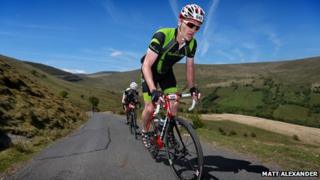 Organisers of one of the UK's largest cycling events said a rider seriously injured in the race received an "amazing amount" of medical help from fellow cyclists.
The 56-year-old rider came off his bike during a descent of the Bwlch mountain in the Dragon Ride Wales on Sunday.
Race organiser Rob Hillman said the man was treated by doctors, who were among hundreds taking part in the event.
He was airlifted to the University Hospital of Wales in Cardiff.
Mr Hillman, from Human Race events, said: "We understand he lost control coming down the hill and he came off his bike, according to a couple of witness statements from people who were behind him."
Computer programmer David Gunthorpe was the first on the scene at Abergwynfi, near Port Talbot, which was around 65 miles (104km) into the 80 mile (125km) race.
Two doctors and a surgeon, also taking part in the race, arrived at the scene shortly afterwards and gave more help to the injured cyclist.
Mr Gunthorpe said: "I came round the corner, still descending, and I saw this guy in the middle of the road and he wasn't moving.
"I pulled over and I checked his pulse, which was fine. He was face down and bleeding from his nose and face.
"He was conscious but we were concerned about his breathing."
Mr Gunthorpe said the two doctors and surgeon performed CPR on the injured rider until St John Ambulance arrived and the man was then airlifted to hospital.
Mr Gunthorpe, who was travelling at about 50mph on the descent, checked the injured man's bike for any sign of what could have caused him to come off.
"The rear tyre had blown off the rim about 10 inches. It might have happened as we came over a cattle grid further back. His rear wheel was locked," he said.
Mr Hillman said the race was temporarily stopped for an hour for the 400 riders behind the injured cyclist while the scene was cleared.
He said a full investigation was being held and it was understood no vehicles or other cyclists were involved.
Dragon Ride Wales is a non-competitive cycling marathon over the hills of south Wales and the Brecon Beacons National Park. The ride takes in the Bwlch and Rhigos mountain roads.
The event has different courses to suit riders ability - 200km (120 miles), 125km (80 miles) and 40km (25 miles).