Charmaine Macmuiris murder response police cleared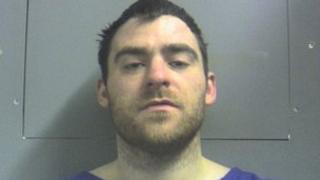 Police who visited a killer's home and left without realising his girlfriend was bleeding to death have been cleared by an internal investigation.
Charmaine Macmuiris, 37, was repeatedly stabbed last Christmas Eve by her new boyfriend, David Thomas O'Sullivan.
Dyfed-Powys Police went to O'Sullivan's Carmarthen home on the night, but he told them: "Everything is OK".
O'Sullivan has since been jailed for life. The force said an inquiry found no concerns over its response.
Since the sentencing on Monday it has emerged that the full involvement of Dyfed-Powys Police on the night has now been investigated.
The force referred itself to the Independent Police Complaints Commission (IPCC), who referred it back to Dyfed-Powys. The force investigated, and found "no issues of concern" over its response.
O'Sullivan, 28, was told he must serve at least 14 years in prison when he was sentenced at Swansea Crown Court after he admitted murder.
The couple had been together for only three weeks when O'Sullivan became convinced his girlfriend was seeing another man.
It came to a head on Christmas Eve, with a heated row in a pub, and O'Sullivan sending threatening text messages to the man he believed was a love rival.
Left to die
Back at his home, O'Sullivan punched her while they were in the lounge, and then stabbed her at least 10 times while she was in a bedroom.
Following the attack, police called at the house to investigate a complaint about the threatening text messages.
Patrick Harrington QC told Swansea Crown Court: "When police officers asked him about cuts to his arm he said he had punched a hole in the wall."
O'Sullivan told the police that all was well, and the officers left, unaware that Mrs Macmuiris, a mother-of-three, lay fatally wounded.
"It is clear serious violence began inside the house with strong indications there was more than one assault," Mr Harrington told the court.
"The second and fatal attack saw him use a knife to stab her to death.
"He made some rudimentary attempts to clean her up and lay her on a bed - and it is almost certainly there she bled to death."
Her body was not discovered until the next day when O'Sullivan's parents called at his home to wish him a happy Christmas.
He initially denied the murder but then pleaded guilty on Monday as his trial was due to begin.
Jailing him for life, Judge Eleri Rees described the murder as "a vicious and brutal killing".
'No concerns'
The force had voluntarily referred itself to the IPCC, after it became clear that officers had visited O'Sullivan's home.
After accessing the incident, the watchdog referred it back to the force to investigate itself.
"I can confirm that this was referred to the IPCC at the time and we decided after an assessment that this could be referred back to Dyfed-Powys Police," said an IPCC spokesperson.
The Dyfed-Powys force said that inquiry had been completed.
"The extent of police attendance and engagement at the address in Carmarthen on 24 December 2012 was disclosed in full in court," stated the force's spokesperson.
"Dyfed-Powys Police referred it voluntarily to the IPCC, and they concluded it should be referred back to Dyfed-Powys Police to investigate.
"No issues of concern were identified in relation to police actions or response on that night."