Gellinudd Hospital: Watchdog backs health board closure plan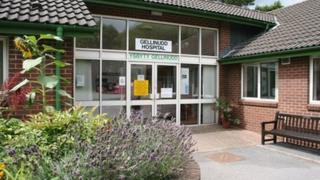 Campaigners battling to save a community hospital in the Swansea Valley say they have lost their fight.
Swansea's community health council (CHC) has backed Abertawe Bro Morgannwg Health Board plans to close Gellinudd Hospital at Pontardawe.
Around 4,000 people had signed a petition calling for the 30-bed hospital for the elderly to be saved.
But the CHC says patients will be best served by community care or by being admitted to a larger hospitals.
The CHC meeting in Swansea on Tuesday was part of the health board's consultations on the closure.
In his report, CHC chief officer Phil Williams backed the proposals but said: "In light of the fact that over 4,000 people have signed a petition against the closure, the health board should undertake further work with the community to reassure the population of the benefits of the proposed new model of care."
The health board had previously said the closure would allow £340,000 to go into community-based staff but opponents said the hospital was a valuable resource for elderly patients recovering after hospital treatment.
The hospital also has some limited rehabilitation facilities.
'Very lonely'
After the meeting Hilary Thomas, the chair of the Gellinudd League of Friends, said it was the end of the road for the campaign to save the hospital.
"We've fought hard, but we've failed," she said.
"While we accept that the elderly receive special care at Singleton and Neath Port Talbot hospitals we feel there is a need for care to bridge the gap between leaving hospital and going home.
"People may not be ready to look after themselves in their own homes and the nurses will not be available all day and all night. Some people are very lonely."
She added that the Friends also questioned the savings which the health board said would be achieved due to the expense of having more nurses driving around in the community.
"It would have been better if they kept the hospital as it is until they can prove that what they promise us will work," she added.
More than 200 people attended a public meeting in Pontardawe in April to discuss the health board's consultation document.
The original hospital on the site was opened in 1910 and used as an isolation hospital but the current facility was rebuilt in 1994.
Abertawe Bro Morgannwg University Health Board will discuss the closure plans again next week.
It says that as a response to consultations there have been changes to the original plans.
This includes money spent on home care increasing from £340,000 to £500,000 from the £1.2m currently being spent at Gellinudd hospital.
Six additional beds will also be maintained at Neath Port Talbot hospital to accommodate patients from Gellinudd Hospital on a permanent basis.
Abertawe Bro Morgannwg University Health Board meet at 09:30 BST on Thursday 4 July at the Waterton Centre, Bridgend.