Bush Hotel: Demolition risk for pub Dylan Thomas drank in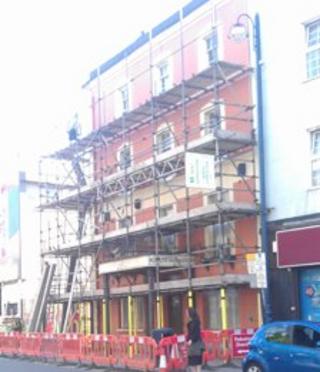 The historic pub where the poet Dylan Thomas had one of his last drinks in Swansea before his ill-fated trip to America, could be pulled down.
The Bush Hotel's history goes back centuries, but Swansea council says its dilapidated state is a danger.
Coastal Housing, which owns the Grade-II listed building, says it will comply with a structure enforcement notice.
Jeff Towns, a Swansea-based Dylan Thomas expert, said: "You can't imagine that it couldn't be saved and used."
The Bush Hotel was once a celebrated local hostelry - an historian wrote a book about it in 1915 - but it has lain empty and become the target of vandals over the past four years.
The pub's history can be traced back to the mid 17th Century when Oliver Cromwell is thought to have been entertained there by one of his commanders.
In the 19th Century followers of the racing at nearby Crymlyn Burrows would visit the Bush after a hard day's gambling.
However, in recent decades it has been better known as Dylan Thomas's last watering hole before he left for a reading tour of America.
He arranged to meet some pals in the pub and was photographed there before he left on the trip in 1953. He later died in New York after a heavy drinking session.
Fans of the poet fear the pub may be days away from its demise after the council served its housing association owner with a structure enforcement notice.
Gerraint Oakley, Coastal's director of development, said the organisation was responding to the notice as a matter of urgency.
He said: "The building has been empty for some years and has suffered from damage by severe weather and repeated vandalism and theft.
"Despite remedial works that we have carried out inside the building, there has been recent deterioration to the structure.
"We had been in the process of carrying out detailed assessments of the property when the property was deemed to be dangerous.
"Contractors have immediately been appointed to carry out necessary safety work and works have already commenced.
"When a decision is made on the next steps we will ensure that people are kept informed."
Mr Towns said: "That building has been around a long time. Cromwell may have stayed there. His commander-in-chief definitely held banquets and dinners there.
"Throughout the centuries it was always an important building. Dylan took his last drink in Swansea there.
"Why should we lose something like this?
"Swansea lost a lot to the Luftwaffe and then the planners came along and did a better job than them.
"It's such a wonderful Georgian building."