Carmarthenshire blogger files appeal bid over High Court judgement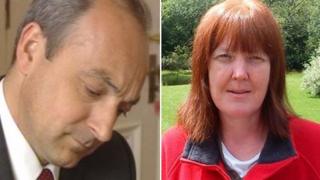 A blogger is seeking to challenge a High Court decision after a failed bid to sue a council chief executive.
Jacqui Thompson took action after Carmarthenshire council responded to criticism following her ejection from a meeting for filming.
But the High Court dismissed her claim back in March and ordered her to pay £25,000 in damages to Mark James.
Mrs Thompson is also facing a £230,000 legal bill and has filed a notice of appeal with the Court of Appeal.
"My lawyers have put in our grounds for appeal and we're requesting permission and we'll wait and see," said Mrs Thompson, from Llanwrda.
"The appeal includes the damages that were awarded to Mr James against me.
"It's very important that I can legally challenge the findings by the judge."
Mrs Thompson revealed last month that she had to foot the legal bill.
It represents about £190,000 for Carmarthenshire council to fight the libel allegation brought by Mrs Thompson, and a further £41,000 to launch its own counter-claim.
Mrs Thompson said it could be August before she found out whether she had permission to appeal.
The legal spat developed after Mrs Thompson was removed from a council meeting and arrested after refusing to stop filming it in June 2011.
She launched her action after Mr James wrote a letter in response to her criticism of the council following the incident.
Carmarthenshire council has been asked to comment.