Wales National Air Show takes place in Swansea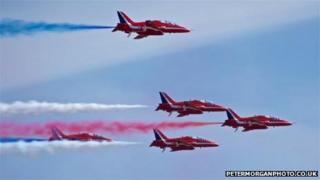 Swansea is hosting one of its busiest weekends of the year as tens of thousands of people are expected to watch the city's air show.
The Wales National Air Show is staging displays by the Red Arrows, the Battle of Britain Memorial Flight and an RAF Typhoon fighter jet.
But with temperatures soaring, organisers have advised visitors to wear sun cream and suitable clothing.
Promenade displays started at 13:00 BST on Saturday then at 12:00 on Sunday.
Nick Bradley, the authority's cabinet member for regeneration, said: "This weekend promises to be a fantastic occasion for all the family.
"Swansea is the place to be and our advice to visitors is to make sure they set out early to make the most of what's on offer.
"There will also be flight simulators so people can have a taste of what it's like to be one of the pilots they will be seeing performing during the day."
Special arrangements have been made for travel and parking in and around the city during the weekend.
Swansea council has also set up a special "tag your tots" system for lost children, with wristbands parents can give to their children with contact details on.
They will be available from event information points.