Tata Steel, Port Talbot: Hot weather brings dust pollution for residents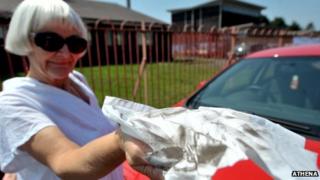 A steelworks has promised to clean up its act after complaints about dust pollution from residents, who say the hot weather is making matters worse.
People in the Port Talbot area said there had been a "massive" fallout of black dust from the giant Tata Steel plant during the last seven weeks.
With temperatures soaring locals said particles were not dissipating and were coating homes, cars and gardens.
Tata said it had taken action and was confident the situation would improve.
Port Talbot is the steel giant's second largest plant in Europe, employing thousands of workers.
Natural Resources Wales (NRW) revealed it had received a number of reports during the recent warm weather from residents concerned about the pollution.
It said it had agreed an action plan with Tata Steel and expected the company to make improvements.
Neath Port Talbot councillor Rob Jones, who represents Margam near Port Talbot, said the last seven weeks had been "awful".
"There's been a massive fallout of black dust from the plant," he added.
"With the weather as it is people are leaving their windows open and the dust has been getting in their homes.
"The dry weather means that the dust isn't dissipating. If there was rain or wind it would dissipate.
"I went for a walk with my wife a few days ago and the dust is like a mist hanging in the air over Margam and Taibach."
Tata Steel held a community environmental open day for residents on Tuesday.
'Action plan'
"We have had some issues with dust emission recently," said a Tata Steel spokesman.
"We have had some technical issues but action has been taken and we are confident of improvement.
"In tackling the matter of dust emission in the long term, we have a air quality action plan which includes multiple initiatives all designed to reduce ambient dust levels and we will be working with other relevant companies to reduce what is generated from the steelworks site."
But the spokesman said it was always more challenging in dry weather.
He said the company monitored dust levels closely and was scrutinised by NRW and the local authority.
NRW said its officers had inspected the steelworks and it was confident it had identified the part of the site which was generating the dust.
"We've agreed an action plan with Tata Steel Ltd and we expect the company to make improvements to reduce the amount of dust coming from the site," said an NRW spokeswoman.
"If we don't see satisfactory progress made at the site we will consider if further measures are necessary."
But for residents like Peter Davies, the promise of action is of little comfort in the hot weather.
"The pollution is at an all time high," he told BBC Wales news online.
"The black plumes coming out of the furnace are horrendous. It covers everything every night. Our garden gets covered with the pollution and we have to wash our garden furniture daily.
"I have painted walls in my garden and I have lost the will to refresh them - within a matter of days they are coated with a silvery black dust.
"Radical action needs to be take."
Forecasters are expecting the hot weather to continue for several days.
The number of people suffering sunstroke, sunburn and heatwave-related injuries is stretching hospital emergency departments, doctors say.
Others injuries include toes amputated due to gardening accidents and people hurt in falls as more go out and about.