Pembrokeshire child safety: Education recovery board set up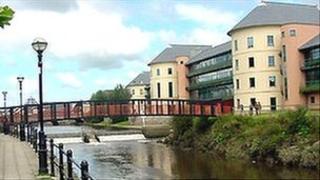 Changes in how Pembrokeshire council safeguards children are not happening fast enough, ministers have said.
It follows allegations about children being locked in rooms and the hands of one being tied by a teacher.
Education Minster Huw Lewis and Local Government Minster Lesley Griffiths have set up a recovery board to ensure improvements are made across education.
Council leader Jamie Adams said he welcomed the board and said they had already had a "productive" meeting.
The recovery board will have a wider role than the Pembrokeshire Ministerial Board which was wound up in April after more than a year advising the local authority on changes to its safeguarding children work.
The new team will focus on issues throughout the council's education system but will also keep track of the progress in safeguarding policy overseen by the ministerial board.
'Time out' room
An official report highlighting Pembrokeshire's failings in safeguarding children led to a row between the council and the Welsh government.
Care and Social Services Inspectorate Wales (CSSIW) and schools inspectorate Estyn carried out a joint inquiry following 25 cases of alleged professional abuse between 2007 and 2011.
Some cases concerned a primary school head teacher jailed in May 2009 for sex assaults against children.
A complaint in June 2009 concerned a child being locked in a so-called "time-out" room - which had no natural light or ventilation - at the pupil referral unit in Neyland.
In a joint statement on Friday, Mrs Griffiths and Mr Lewis said: "We accept there have been some improvements with regard to safeguarding and we are hopeful at last we will begin to see a transformation in the culture which resulted in the failings described in the various inspectorates' reports over the last 18 months.
'Early days'
"However, it is still very early days and we do not believe the recent changes are sufficient to address the many problems the authority faces, nor can we have confidence that the authority will take adequate further action on its own."
The recovery board will help Pembrokeshire council tackle the issues raised by Estyn, they said.
The ministers said the the recovery board's membership will be announced once the arrangements for it have been finalised.
Pembrokeshire council leader Jamie Adams said: "In the same way that we worked constructively with the former Pembrokeshire Ministerial Board, we are happy to do the same in the interests of service improvement.
"Indeed I had a very productive first meeting with the recovery board earlier this week."