Pembroke power station sewage plant given the go-ahead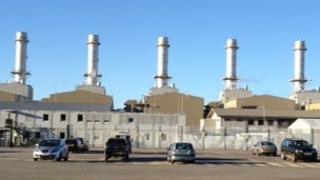 Pembroke power station has been granted an environmental permit to operate a sewage treatment plant on the site.
Currently raw sewage is taken by tanker off-site to a sewage treatment works at Pembroke Dock.
Natural Resources Wales (NRW) has approved the on-site plan saying it would not damage the local area.
Friends of the Earth Cymru said that although the sewage issue was small, it already has reservations about the £1bn station on conservation grounds.
Last year the BBC learned the station may be forced to change its cooling system due to fears its technology may breach conservation laws.
The permission to operate a "small-scale" sewage treatment plant was granted by NRW which decided it would not impact on human health or the Pembrokeshire Marine Special Area of Conservation (SAC).
RWE npower plc, which built and operates the station, applied in January to run a sewage treatment plant to handle domestic sewage generated on site whilst the power station is operational.
Mary Youell of NRW said: "After a thorough assessment, we're confident that the operator has the necessary plans in place to operate this small-scale treatment plant without damaging the local area.
"We'll continue to monitor operations at the site to make sure it performs to the highest environmental standards as set within the environmental permit."
Gareth Clubb, director of Friends of the Earth Cymru, said: "We already have reservations about the validity of this power station.
"We have major concerns and, although this matter of sewage may be relatively small, we feel that the plant should not be operating at all until an investigation by the European Commission is completed."
Last December a leaked document seen by BBC Wales showed the station could be forced to change its cooling system because of fears its technology could breach conservation laws.
At the time the European Commission sent a formal notice of infringement to the UK government, listing 18 violations of four separate environment laws.
The gas-fired power station was officially opened by UK energy minister John Hayes in September 2012.
RWE npower said the plant's development had been thoroughly scrutinised.