Swansea considers curb on new pub and club licences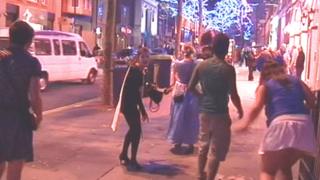 Councillors in Swansea are being asked to introduce a policy curbing new pub and club licences in the city centre.
The "cumulative impact" measures would halt new premises being granted licences around Wind Street, Kingsway, and High Street and College Road.
It follows a report by South Wales Police that showed there were 963 alcohol-related crimes in Wind Street alone in 2012-13.
The issue will be discussed at a full meeting of Swansea council on Tuesday.
The new policy was put forward after concerns were raised about the high levels of anti-social behaviour and violence in city centre hotspots in the Castle ward area.
Under the proposals, the city council's licensing authority could reject any new applications for pub, club and off-licences in the affected area, if the police, fire or health and safety officials fear the overall impact would increase alcohol-related incidents.
If those concerns are raised, the council's new policy would kick-in delivering "a presumption against granting any application for a premises licence".
A similar scheme is all ready in force in Cardiff, covering areas around St Mary's Street in the city centre.
City living
Sybil Crouch, who is the Swansea cabinet member for sustainability and one of the councillors representing the Castle ward, said the new measure would not only help address disorder concerns.
"It is one of things I have championed, on the basis that we want to encourage people to live in the city centre," she said.
"It is about sustainability and about getting the balance right."
Within the three areas the special policy would cover there are 252 licensed premises, including off-licences that can sell alcohol 24 hours a day.
Mrs Crouch said the cumulative impact policy meant that new licence applications could still be considered - but instead of an presumption in favour of granting the licence, the council had a new measure it could turn to.
"It does mean we can take each case on it merits," she added.
A consultation on the policy was carried out earlier this year, before the full council votes on the issue on Tuesday.
South Wales Police estimates that policing Swansea city centre after dark requires 20 officers clocking up an average 600 hours a week in total, costing nearly £600,000 a year.
The force has responded to the new proposal stating: "We support the Cumulative Impact Policy in its entirety."
Nick Newman, chair of Cardiff's licensee forum and manager of Brew House in St Mary's Street, said the saturation zone had been successful in the city centre and disorder problems had fallen.
"It's served a purpose and it's true to say there were too many licensed premises," he told BBC Radio Wales.
"But it's not the case that every application is ruled out and each is considered on its merits.
"If something attractive comes forward that's considered an attribute to the city by the council and the police, it can in theory get a licence although it's much tougher now."