Tata Steel Port Talbot issued with notice over pollution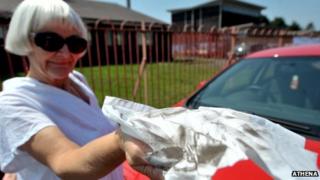 A steelworks has been issued with an enforcement notice to prevent pollution after a major fallout of black dust fell on homes nearby.
Natural Resources Wales (NRW) said it meant Tata Steel had to carry out a review on how to stop pollution from the Port Talbot plant.
As temperatures soared earlier this month residents claimed particles were not dissipating and were coating homes.
Tata Steel said two weeks ago that it was taking action.
On 18 July, NRW said it had received a number of reports during the recent warm weather from residents concerned about pollution from the site.
At the time it said it had agreed an action plan with Tata Steel and expected the company to make improvements.
But in a new statement on Tuesday, NRW said it had now taken enforcement action that required Tata Steel to carry out a further review into the dust problems it caused in June and July.
NRW officers have also asked the company to find longer term solutions to reduce dust from the site that includes reducing the temperature of the production process.
It also wants the firm to find a dust suppressant with more tolerance to higher temperatures.
Mary Youell of NRW said: "Tata Steel has already taken immediate steps to reduce the dust coming from their site and have worked with us on this investigation.
"We are pleased with their response so far, but we do want a longer term solution to these issues that have been made a lot worse due to the dry hot weather.
'Heart conditions'
"Tata Steel is a very important part of this community, and by issuing this enforcement notice we are making sure that it operates to the highest standards to protect local people and the environment."
At a meeting between NRW, Tata Steel and Neath Port Talbot council, the company outlined a range of actions it was taking to tackle the dust problem and address the enforcement notice served by NRW.
It said it was also exploring with Neath Port Talbot council ways of engaging with the residents of Port Talbot.
NRW said the company was committed to providing "feedback on this problem and progress with their actions".
Dr Sarah Jones, consultant in environmental health protection for Public Health Wales, said although inhalation of dust could have an adverse impact on people's health, for most people it was unlikely that this issue will cause any problems.
"However, exposure to high levels can make existing lung and heart conditions worse and can be dangerous for children and elderly people," she added.
Tata Steel has been asked to comment.