Lower Swansea Valley: Flood scheme footbridge is installed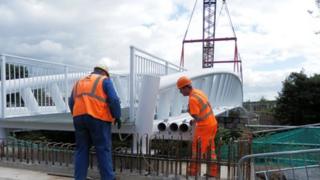 A replacement footbridge has been installed as part of a £7m flood scheme aimed at improving protection for 300 businesses and homes in the lower Swansea valley.
The bridge was lowered across the River Tawe near Morriston and sits at a higher level than the existing one.
It will be opened before the old Beaufort Bridge is removed.
New flood embankments have been built along the river, and a wetland habitat created to attract wildlife and plants.
Work on the scheme began in February.
Natural Resources Wales (NRW) said the project would reduce flood risk by increasing the river capacity, removing restrictions to river flow and raising low spots along the river banks.
The next phase will include removing the existing flood embankment at the former Llansamlet park and ride site.
NRW's Phil Pickersgill said: "Once complete this new scheme will provide better protection for businesses and people's homes from the prospect of flooding in the area.
"Flood damage can have huge implications for businesses and the whole economy of an area.
"So while the work continues we're also working closely with the city and county of Swansea to make sure that the local business community, as well as homeowners, are prepared for flooding and know how to respond."
The scheme is due for completion by the end of the year, with more landscaping works to take place in 2014.
Swansea Vale, Swansea Enterprise Park, Cwrt Llwyn Fedwyn, Tawe Street and Beaufort and Plasmarl industrial estates will all benefit from the new measures.