Selling Wales as a brand through its Premier League football teams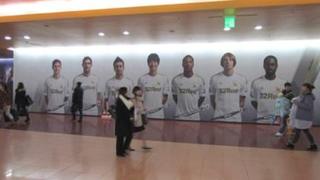 Two Welsh clubs will play in the Premier League this season for the first time after Cardiff City won promotion in April to join Swansea City, who reached the top flight in 2011.
The mega-rich Premier League has a global audience and the Welsh government is hoping to use Cardiff and Swansea's success on the football pitch as a way of branding Wales as a good place to invest.
Economy Minister Edwina Hart says it is an "enormous opportunity for them to advertise Wales across the world" as football being screened in numerous countries will help Welsh tourism and business.
The Welsh government is well aware that football clubs and politicians can together send out a global message about Wales.
Since Swansea reached the Premier League two years ago, the Liberty Stadium's North Stand has been renamed the Croeso Stand with Visit Wales branding inside and outside the stadium as part of a sponsorship deal with the Welsh government.
A similar deal, worth £110,000, has recently been signed with Cardiff this season for the Canton Stand which will also be renamed.
Sense of identity
But can sport help to brand a nation and why is branding important?
Branding company Teamworks set up in Cardiff more than 20 years ago.
Commercial director Tom Tribe says it is important for a country to have its own sense of identity and for global perceptions to be accurate.
He says a brand gives a sense of identity that others latch onto and understand.
"The recent success of Welsh football - and the British and Irish Lions being predominantly Welsh - can be piggy-backed on to get the message out that we are a part of Britain but also our own country," he added.
"I think it's a really good opportunity to utilise the energy that's there at the moment. If we didn't have any teams in the Premier League it would all be about England and English teams."
Nigel Morgan, professor of tourism and events marketing at the University of Surrey but who lives in Wales, agreed that football success could help to brand Wales.
He said research in Liverpool highlighted the influence of the two football teams there - Everton and Liverpool.
It found 30p of every £1 spent on football in the city stays in the local area, and he said similar benefits could come to Wales.
'Big impact'
"I think football's going to become very important," he said. "There are already a number of studies which look at the economic impact of, if you like, the football industry on particular regions.
"When you translate that (effect in Liverpool) to south Wales, it's going to have a big impact both from the spend of the actual clubs and the additional spend from visiting fans."
He added: "You've got the economic impact which is additional spend from visitors and accommodation but also you've got reputational impact which is quite hard to measure but arguably has the most impact long term."
And Mr Morgan highlighted Swansea's reputation globally which has been building over the last two seasons.
Last season a huge poster of Swansea City players was used in a shopping centre in the South Korean capital Seoul as part of an advertising campaign for a major football computer game.
"If you follow social media and the coverage Swansea are getting, they are getting coverage in places like Korea and the States," he said.
"You've got Swansea football shirts at Seoul airport alongside Man United shirts - that was inconceivable 10 years ago."