£6m boost for Swansea's poor areas through Communities First programme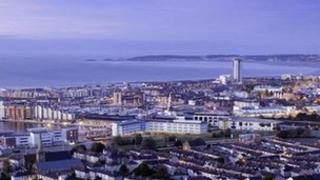 More than £6m is to be invested to support five of Swansea's most deprived communities over the next two years.
The cash is part of the Welsh government's Communities First programme to help improve health, prosperity and education.
Last year, Swansea council leader David Phillips said the key priority was "healing the divide" in the city between poverty and prosperity.
Swansea is also benefiting from £4.8m through the Flying Start programme.
Under the project, parents in disadvantaged communities will get free part-time childcare and parenting support through the Flying Start programme.
Poverty Minister Vaughan Gething made the Communities First announcement on Wednesday.
"We are committed to tackling poverty head on and using all our resources across the Welsh government to help those most in need in our society," he said.
"That is why we are investing £6m over the next two years to help the poorest areas of Swansea to help those out of work to find jobs, making sure people have the right skills and education to improve their life chances.
"I am in the city to see for myself the excellent work that is already underway to address this issue and to listen to the experiences of the people on the ground."
There are 52 Communities First projects across Wales.