Swimmer Steve Redmond abandons Ireland to Wales 50-mile challenge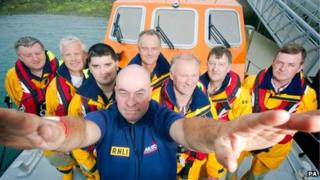 A father hoping to make history by becoming the first person to swim from Ireland to Wales non-stop has abandoned his challenge.
Former triathlete Steve Redmond, 48, contracted hypothermia and pulled out of the 50-mile (80km) swim in the early hours of Thursday.
Mr Redmond had hoped to reach Whitesands beach, St Davids Head, Pembrokeshire, on Friday morning but fears soon grew for his health.
He was raising money for the RNLI.
Mr Redmond left Carnsore Point, Wexford, at 23:00 BST on Wednesday.
John Kearney, from the support team, said the swimmer was advised to give up by medics just hours after setting off across the Irish Sea.
"I know many people will be disappointed, not least Steve himself, but we made the right decision to end the attempt," he said.
"Our main focus and concern was always Steve's health and when he started displaying worrying signs of hypothermia we felt that with such a long swim ahead of him it was not worth the risk.
"Steve has swam some of the most gruelling oceans and he knows that everything has to be right and you don't take chances."
Mr Redmond, a seasoned open water swimmer, would have faced strong currents, swarms of jelly fish and shipping traffic.
Last year, he completed the Ocean's 7 Challenge, which involved swimming the English Channel, North Channel, Strait of Gibraltar, Catalina Channel in California, Cook Strait in New Zealand, Molokai Channel in Hawaii and the Tsugaru Channel in Japan.
Mr Redmond, who lives in county Cork with wife Ann and their two children, was moved to undertake the challenge after three brothers drowned while fishing off the south coast of Ireland.