Dust from Tata Steel, Port Talbot, continues to fall on homes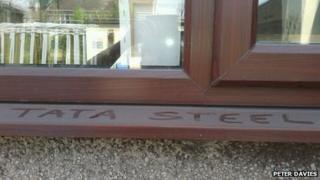 Dust is continuing to fall on homes close to a steelworks which has been issued with an enforcement notice to prevent pollution.
Last month a major fallout of black dust from Tata Steel's Port Talbot plant prompted complaints from residents.
Residents said their homes were still being affected by the dust but it was finer and in lower quantities.
Tata said a task force was looking at improving the situation.
Natural Resources Wales (NRW) issued the enforcement notice and is monitoring the situation.
Peter Davies, who lives nearby, said: "It's pretty much every day and especially in the warm weather.
"You can put out your patio furniture and leave it overnight and you have to clean it in the morning."
Complaints
Neath Port Talbot councillor Rob Jones, who represents Margam near Port Talbot, previously said the weeks leading up to the enforcement were "awful".
He said there had been a "large reduction" since then but a finer dust was coming out of the plant.
"I'm still receiving complaints from residents in the area but not as many as a few weeks ago," he said.
"We've had a meeting with Tata and another one coming up. They have invited us to give an update in relation to what they've been doing with NRW to arrest the problem.
"What made the problem worse (a few weeks ago) was the density falling out.
"Now, it's a lot finer dust and the quantity is reduced but it's still coming out and we've made NRW aware and they are working with Tata to identify and prevent further falls."
NRW's enforcement notice runs until 27 September.
An NRW spokesperson said: "At the moment, we are still monitoring the site but after the date has passed we will be conducting a review to see if improvements have been made."
A spokesman for Tata Steel said: "We have not received a high level of complaints in recent days. We have produced more dust than normal and prevailing wind has taken it over the town."