Cracks and noise claims over Swansea University campus works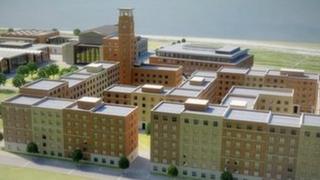 Residents living near Swansea University's new second campus have complained about noise and damage to their homes during construction work.
Work on the £450m science and innovation campus began in May.
One councillor said developers were doing all they could but he had received complaints about the effects of pile driving as foundations were laid.
St Modwen said any issues would be dealt with on an "individual basis".
Coedffranc West councillor Harry Bebell, who lives across the road from the building site, said: "The complaints have been about the noise and the damage.
"About 20 people have spoken to me about this. I've had two double-glazed windows blow out.
"You can feel it [vibrations] coming through your seat. The residents have to take ornaments off the shelves."
Mr Bebell said damage was expected because the homes are built on sand and pile-driving vibrations move through sand sideways.
He also said the pile driving had been going on since May from 08:30 to 17:30 BST each day, although it was due to end soon.
Previous problems
But he stressed the developer had been doing its job properly.
"We have had it before while there has been pile driving in the area," he said.
"We had it with the Amazon site and with the incinerator plant but this is an improvement on the pile driving we've had in the past.
"We have meetings with the developers and the university once a month. They are doing everything that's possible."
Richard Powell, construction manager for St Modwen, said: "Any individual issues are going to be dealt with on an individual basis.
"Our contractor has installed vibration monitoring points, and at the moment in respect of the data there is little or no cause for damage to the properties."
About 4,000 direct jobs will be created during the construction phase with a further 6,000 indirect posts supported in the wider economy as a result.
The university estimates the campus will contribute more than £3bn to the regional economy over the next 10 years.
It is set to include a research and testing facility operated in partnership with Rolls-Royce.
There will also be new teaching and research facilities for the university's engineering; business and economics; maths; and computer science departments as well as student residential accommodation.
The university's Singleton Park campus will also be regenerated while the student village is being sold.