Tata production at Port Talbot reaches record high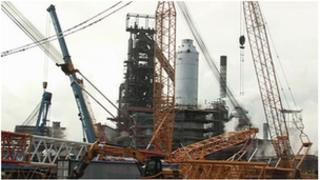 Production at Tata Steel's Port Talbot plant has hit a record monthly high in August, the company said.
The furnaces produced an average of 84,500 tonnes of iron per week - with the newly-built £185m No 4 furnace which opened in February producing almost half of that amount.
The last record for the strip products business was 82,800 tonnes in 2007.
Success at Port Talbot has also created demand at the Llanwern site with records being broken there too.
"We have the best performing blast furnaces in Europe," outgoing hub director Jon Ferriman said.
"Critically, the steel plant and the casters also broke production records.
"This means that we have re-established the efficient production process which has been our goal since the blast furnace No 4 rebuild last year."
He added: "The increase in productivity is of course very welcome. However, following extremely challenging times the business has much catching up to do.
"We're operating in highly competitive markets. As we introduce new added-value products for diverse, demanding applications, we are focused on turning productivity into sound profitability."
Mr Ferriman also said there had been a reduction in dust emissions from the site.
In July, a major fallout of black dust from the Port Talbot plant prompted complaints from residents and saw Tata issued with an enforcement notice to prevent pollution.
"I created a taskforce to tackle the problem and they have focused on both production process improvements and also sources of dust on the site," he said.
"The value of their work has been borne out both in the reduction in incidents, but also a halving in the number of complaints to the company from local residents."
He added: "We saw no air quality breach days in August. We're still on track not to exceed the limit on breach days.
"There is more work to be done in this area but we can acknowledge the success of this work."
Alan Coombs, chair of the multi-unions at Port Talbot, said the workforce should take credit for the records, adding the "whole community" in Port Talbot would benefit.