Dylan Thomas-inspired Cwmdonkin Park, Swansea, officially reopens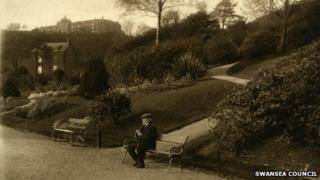 A Victorian park made famous by poet Dylan Thomas is being officially reopened after a £1.4m refurbishment.
The project at Cwmdonkin Park, which is close to the poet's childhood home, has been completed ready for next year's 100th anniversary of his birth.
The Dylan Thomas shelter has been upgraded and a drinking fountain restored along with paths, railings and engraved benches.
A nostalgic tea room recapturing the 1930s has also opened.
"It's an especially apt location because of its closeness to Dylan's childhood home and we know he drew inspiration from the park for some of his works," said Nick Bradley, Swansea council's cabinet member for regeneration.
"The park promises to be a centrepiece of activities to mark the centenary next year when the eyes of the literary world will be on Swansea Bay."
The refurbishment has been funded by the Heritage Lottery Fund, Swansea council, the Friends of Cwmdonkin Park and the Welsh government's sustainable tourism project backed by the European Regional Development Fund.
A free event to mark completion of the works is being held in the park on Saturday from 12:00 to 20:30 BST.
Some of the activities in the day will include an Under Milk Wood performance from children at Dylan Thomas Community School, poetry workshops, tennis and magic shows.
A live concert in the evening will feature the UK Filmharmonic Orchestra and Phantom of the Opera star Peter Karrie.
Jennifer Stewart, head of the Heritage Lottery Fund in Wales, said: "Parks are enjoyed by everyone and play a vital role in improving the environment, community life and people's feelings of wellbeing.
"As such, this project has brought one of Swansea's most treasured parks back to its former glory for the benefit of local people and future generations to enjoy whilst reaffirming its connections with Swansea's and Wales' most famous poets."