Concert marks 40 years since the Rolling Stones 'nearly' rocked Pembroke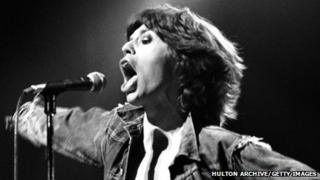 You Can't Always Get What You Want, sang Mick Jagger, and it was never more true than when the Rolling Stones tried to perform at Pembroke Castle 40 years ago.
The gig was to take place in front of 12,000 fans but the old borough council refused permission for it to go ahead.
Health and safety fears were blamed but fans back in September 1973 thought councillors were "old fogeys".
Now a tribute concert aims to make up for lost time.
Organisers said the anniversary concert by a tribute band would be a chance to see what had been missed.
"Pembroke Castle had hosted Hot Chocolate and other venues had regularly hosted chart acts, but nobody had at that stage had anyone near the Stones," said Malcolm Cawley - DJ BB Skone - who was 24 at the time.
The Rolling Stones were organising an European tour and had been offered the chance to fill a gap in September.
Word quickly spread as the promoters advertised the event, even in the national press.
Permission had not been granted by the local council however as Ann Dureau, who was a councillor in her 30s on Pembrokeshire Borough Council at the time, recalled: "The response was utter horror. The councillors said it would mean closing the whole of the main street and shop windows would have to be battened down.
"They were saying things like 'we'll be inundated by hippies and wild people'.
"There was a meeting and it was thumbs down completely when it came to the vote, although I voted for it.
"Young people couldn't believe that we'd lost such an opportunity and in retrospect it was a bold plan and it was a pity we didn't grab a chance to see what would happen."
Jon Williams, the current Pembroke Castle manager, said health and safety had been the main issue behind the council's refusal to grant permission but there had been other issues too.
"I think the promoter came to Pembroke Town Council very late in the day, about a month before the concert was due," he said.
"The council called an extraordinary meeting to discuss it and in the interim the promoter went on to promote the concert so by the time it go to the meeting I think the council's nose was out of joint a little bit."
Due to current regulations the castle can only accommodate 2,700 for the anniversary gig where Rolling Stone tribute band the Counterfeit Stones will headline.
The band knew all about the cancelled gig in 1973 and singer Steve Elson - aka Nick Dagger - said: "It's a beautiful place and it would probably have been one of their most memorable gigs from that period."