Amazon creates 1,500 Christmas jobs at Swansea site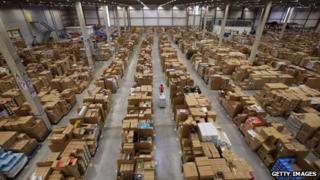 Online retailer Amazon will be creating more than 1,500 seasonal jobs at its Swansea distribution centre - up by half on last year's total.
Workers are being recruited on temporary contracts to work over the busy Christmas period.
The internet company is hiring more than 15,000 extra people across the UK in the run-up to December.
Amazon said it expected "many hundreds" of the seasonal workers to move into permanent posts as a result.
The Swansea base, which opened in 2008, has more than 1,000 permanent staff.
During its busiest day last year, Amazon said customers ordered a total of 3.5m items in 24 hours - a rate, it said, of 44 per second.
In 2012, Amazon created more than 10,000 seasonal jobs in the run up to Christmas across the UK, including 1,000 in Swansea.