Council chief pensions: Call for statement from minister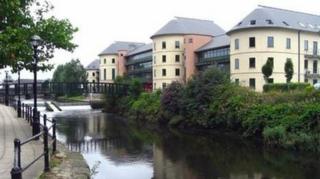 Plaid Cymru has asked the Welsh government if it approves of payments in lieu of pension to council chief executives which has sparked a row.
The Wales Audit Office (WAO) refused to approve Pembrokeshire's accounts after questioning such an arrangement.
The council allows top earners to leave its pension scheme and receive money instead for tax reasons.
Councillors in Carmarthenshire met on Friday to discuss a similar row over payments to its chief executive.
Those payments, to Mark James, were judged to be unlawful by the WAO.
Payments to Pembrokeshire chief executive Bryn Parry Jones will be discussed by Pembrokeshire's corporate governance committee on Monday.
Both authorities have said their actions were backed by legal advice.
Plaid Cymru's local government spokesperson Rhodri Glyn Thomas has tabled an urgent question to local government minister Lesley Griffiths calling on her to make a statement on the matter.
"We are in an age of austerity and local government workers, who keep our vital services functioning, need to be reassured that those at the top are not getting special treatment," he said.
"The Welsh government needs to make a statement on whether it agrees with these damaging pensions opt-outs, and whether it believes they are legal.
"We need to know if this practice is happening in other public services."
'Difference of opinion'
Pembrokeshire council said the change was intended to "aid the recruitment and retention of senior staff" and involved no additional costs.
The WAO has refused to sign off Pembrokeshire council's accounts for 2012-13 because of what is termed a "difference of opinion" over the legality of the change.
It has also said it cannot close Carmarthenshire's accounts until the issue over payments in lieu of pension is resolved.
The WAO later added: "Other than Carmarthenshire and Pembrokeshire county councils, the appointed auditor is not aware of any other unitary authorities in Wales who have entered into a similar arrangement."