Community centre at ex-Pembrokeshire school's £400k extension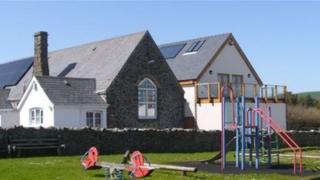 A village that lost a High Court battle nine years ago to keep its primary school is opening a "low carbon" community centre on the same site.
Parents at Ysgol Hermon, north Pembrokeshire, fought to keep the 53-pupil school but lost out to the county council's reorganisation plans.
The building was shut in 2006 but opened two years later after it was bought by the community.
Former head teacher Maureen George is to open a two-storey extension.
The village was in the headlines in 2004 after parents challenged the local authority and the then Welsh assembly government over proposals to shut the school.
Parents mounted a strong campaign to reverse the move, arguing it could spell the end for rural schools in Pembrokeshire.
They took their appeal to Cardiff's High Court but the judge decided Pembrokeshire council had been fair in its dealings with Hermon school.
He said he admired the parents' fight, but it was not up to the court to decide policy.
The school closed but the premises were bought for £120,000 in January 2008 with money from a community share option, local fundraising and a Community Facilities and Activities Programme (CFAP) grant.
Canolfan Hermon community centre has operated there since for the communities of Hermon, Glogue and Llanfyrnach but has outgrown the original single-storey stone building.
The £400,000 timber-framed extension was started in 2011 but stalled for three months after the original contractor went out of business.
Local builders stepped in to ensure the building was watertight and works restarted in March 2012.
The kitchen, bar and main hall were ready in December 2012 with the first floor of the building being complete in May 2013.
The new building, alongside the stone school, boasts a low carbon footprint with under floor heating and is also insulated with recycled paper.
The opening day celebrations are to involve a talk on the low carbon techniques used.
Enterprise Development spokesperson Roz Sherman-Davies said: "Our challenge now is to draw in people from beyond the very local area so that we can attract businesses to uses us for conferences and training and that side of things."