Unity Mine workers advised to seek jobs elsewhere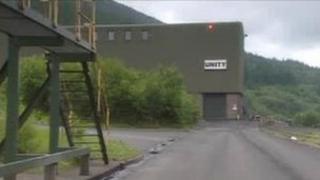 The union leader representing workers at Wales' largest drift mine has advised some to seek jobs elsewhere.
Wayne Thomas said "morale was getting worse" after a day of discussions with bosses at Unity Mine near Neath about the future of the site.
The mine's 220 workers agreed to share shifts while talks continued after management said in August they only had work for 66 staff.
The company said it was hopeful a satisfactory outcome could be reached.
Mr Thomas, south Wales general secretary of the National Union of Mineworkers (NUM) said: "Our advice to people would be to seek work elsewhere pending the outcome of these discussions."
He claimed that the reality of sharing shifts meant some were working one week in every six and some apprentices were working one day a week.
'Specific timescales'
"That is no good for their families and the bills they've got coming in to pay," he said.
"As the weeks go on, as you would expect, the morale is getting worse and worse."
Unity Mine director Richard Nugent said: "Talks are continuing with various parties to secure the long term future of mining at Unity.
"In the meantime the retained workforce are to be kept in post.
"It is unfortunate that specific timescales cannot be intimated to the workforce both employed and on lay-off but with the help of all the parties involved in supporting and consolidating the future mining plan, the board are positive that a satisfactory outcome will be reached in the near future."
Further talks are due to be held next week.
Unity Mine opened in 2007 with reserves of up to 90 million tonnes of coal.