Swansea Hafod copperworks preservation begins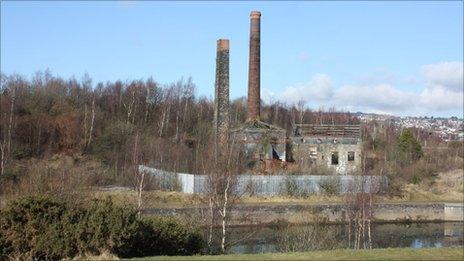 Preservation work has started on two buildings at Swansea's historic Hafod copperworks site.
The copperworks opened in 1810 and it was the largest copper works in the world during the 19th Century.
The remains of the Grade II-listed buildings are on a 12-acre site by the River Tawe and close to Swansea City and the Ospreys' Liberty Stadium home.
Work on the former laboratory and power house buildings will help prevent future decay.
Rotten timbers are being removed, loose brickwork is being reconstructed and overgrown vegetation is being cleared.
The two buildings are among 12 Grade II-listed buildings and structures on the site.
Professor Huw Bowen, who is leading the project team on behalf of Swansea University, said: "The Hafod-Morfa copperworks site was once at the epicentre of the world's copper industry.
"Many thousands of people across Swansea will have family who once worked there but the site had fallen into disrepair over the years, meaning there was a danger its story and legacy would be lost for generations to come.
"This is why we're now working so closely with Swansea council on a project that will preserve and celebrate the site."
The copperworks was owned by the Vivian family and by 1886, Vivian and Sons was employing 3,000 people, of which 1,000 worked at the site.
It continued rolling copper until it closed in 1980.
Two years ago, Swansea University was named as the city council's preferred partner in developing the 12-acre site.
Funding to the tune of £540,000 has come from Welsh heritage body Cadw to restore some of its features and create tourist trails.
As well as the preservation works, the first phase has also included the clearance of overgrown vegetation and the opening up of trails and paths for guided tours in future.
Information panels detailing the site's history and a piece of public art at the gateway to the site will also be added.
Nick Bradley, Swansea council's cabinet member for regeneration, said: "The plan in the long-term is for a mixed-use, heritage-led destination on site that will become a key feature of Swansea's cultural and educational tourism offer.
"We need to be doing all we can to protect our culture, especially at a time when we're on the shortlist to become UK City of Culture 2017 - a status that could generate millions of pounds for the local economy."
Related Internet Links
The BBC is not responsible for the content of external sites.